Direct Enquiry and Booking Hotline: 07411 747272
Welcome to
The Gyrocopter Experience Perth, Scotland
Experience Flights and Pilot Training - To book: - Call Kevin on +44(0)7411 747272
We have an additional website. Click here to access additional information.
Our Airfield
The Gyrocopter Experience is situated within the Scottish Aero Club facilities at Perth Airport. The facilities are shared with other flight training organisations and aviators alike, including Flex-Wing & 3 Axis Microlight - & Fixed Wing.
As a pilot or trainee it is a legal requirement to be a member of the local flying club. As a member, the SAC provides superb facilities including ample aircraft hangerage, and a comfy Wi-Fi enabled pilot?s lounge with available refreshments. The premises boast comprehensive planning and briefing rooms, and the club regularly hosts guest speakers and arranges events and fly-outs for the adventurous amongst us.
For further details see www.scottishaeroclub.org.uk
Why not check the Weather at Perth
Perth Airport is a licenced airfield (EGPT in flying speak), and boasts its own superb facilities offering 3 operational runways (1 grass and 2 tarmac) orientated in the classic WWII triangular formation. Historically recognised for aviation flight and maintenance training, the aerodrome is also home to many private training establishments and small businesses alike including a Hotel and Cafe.
For further details see: - www.perthairport.co.uk
Webcam

Meet the Staff
Kevin Whitehead
Kevin is a Gyrocopter instructor and Flight Examiner, and has been flying these fantastic machines since 2005. Kevin looks forward to introducing you to the wonderful world of Gyrocopters. His aim is to be 100% focused on ensuring that you achieve your goal of becoming a pilot of one of these fantastic machines.
Richard Osborne
Richard supports the business in his role as an assistant Gyrocopter flying instructor. Richard has a wealth of flying experience, gained not only as a keen recreational pilot but as a commercial helicopter captain in his support of the offshore oil industry.

We look forward to seeing you at The Gyrocopter Experience - Perth.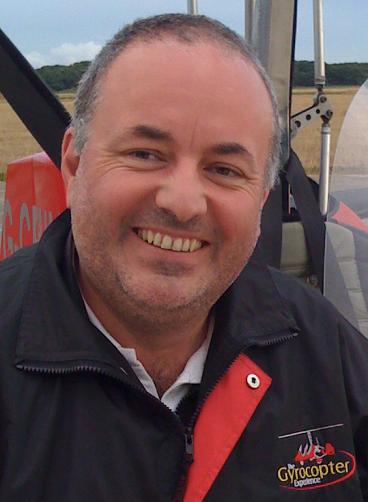 Kevin Whitehead
Instructor
07411747272
Richard Osborne
07889802719

Our Aircraft
We use the state of the art, factory built German MTOSport gyrocopter for all of our training. A truly exhilarating experience in open cockpit sport aviation. You can check out the specifications of these wonderful machines Here
For those who purchase a factory built Gyro prior to attaining their PPL(G), we are also able to offer training in your machine as long as the required dual controls are installed.

Directions
By Road
Perth Airport is situated just 3 miles to the North East of Perth, just off the A94 heading towards Coupar Angus. The airport entrance is on the left and is well signposted. Once you turn into the airport, follow up the avenue until you arrive at the mini roundabout. Parking is available beyond the roundabout in the main car park in front of the control tower. Then on foot, head back to the mini roundabout and turn left and follow the road behind the maintenance hanger passing ACS Aviation on your left, turn left down the narrow lane between ACS and the Cafe, this now opens out into another private parking area, and the Scottish Aero Club buildings which are well signposted are too your right. Once in the building follow the signs or ask for directions to the Gyrocopter Experience.
By Rail
Scotrail run frequent services to Perth from Edinburgh, Glasgow, Aberdeen and Inverness. Perth is also serviced directly by the East Coast main line from London Kings Cross to Aberdeen and Inverness.
For further details via Google Maps please click the following link: